On Saturday June 6th, Team De Visser participated in the running event of the year in Lelystad, De Zeebodemloop.
The ladies ran the 5K, and the gentlemen the 10K. It was a beautiful day for running, which showed in the lap times.
Our De Visser Men's Team on the 10K even made it to fifth place in the overall ranking, due to Jurgen's third fastest time.
Good for our shape and the team building. Next year Team De Visser will once again take on the challenge.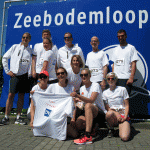 Social Share